EARN $1,000 CASH
AP&T is pleased to continue the Electric Vehicle (EV) incentive program for its electrical service customers and employees!

An AP&T electrical service customer (including employees) who purchases an EV for use in an AP&T service area will receive $1,000!
A Boosted AMP-UP Program!
AP&T has dropped the minimum battery size for its Amp-Up EV incentive program from 16 kWh to 14 kWh.  As a result, various long-range electric motorcycles such as the 
Harley Davidson LiveWire
, 
Zero SR
, and 
Brutus V9
 will qualify for a $1,000 AP&T incentive.   If you're looking for an alternative approach to adventure that will help you power through the COVID-19 era, here's a high horsepower opportunity!   
AP&T is expanding its commitment to clean transportation and economic development in rural Alaska by broadening its "AMP-UP" electric vehicle incentive program to include community charging stations!
Local and tribal governments that install public charging stations for EVs are eligible to receive an incentive payment of up to $1,000.
A Meaningful Change.
AP&T – Committed to Serving Alaskan Communities
This Electric Vehicle "EV" Incentive Program responds to consumer interest in EVs, and builds off of AP&T's success field testing an EV in its Prince of Wales service area as a permanent fixture of its fleet.
In AP&T's southeast Alaska service areas – where 75% to 90% of energy is generated from renewable hydropower, utilization of electrical vehicles represents a meaningful way to significantly reduce fossil fuel costs and associated emissions and environment impacts, while hedging against the potential future fuel price increases.
Customer Incentives
An AP&T electrical service customer who purchases an EV for use in an AP&T service area will receive a $1,000 check from AP&T.

Employee Incentives
An AP&T employee who is also an AP&T electrical service customer who purchases an EV for use in an AP&T service area will receive a $1,000 check from AP&T.
An AP&T employee who originates a purchase of an EV by a non-employee customer of AP&T electrical service is eligible to receive a $500 referral bonus.
To sign up for incentives, please contact your local Alaska Power & Telephone Service Center.



Incentives will be paid on a first come, first served basis limited by AP&T's internal budget. At the close of the program, AP&T will assess results and determine whether or not to extend additional incentives.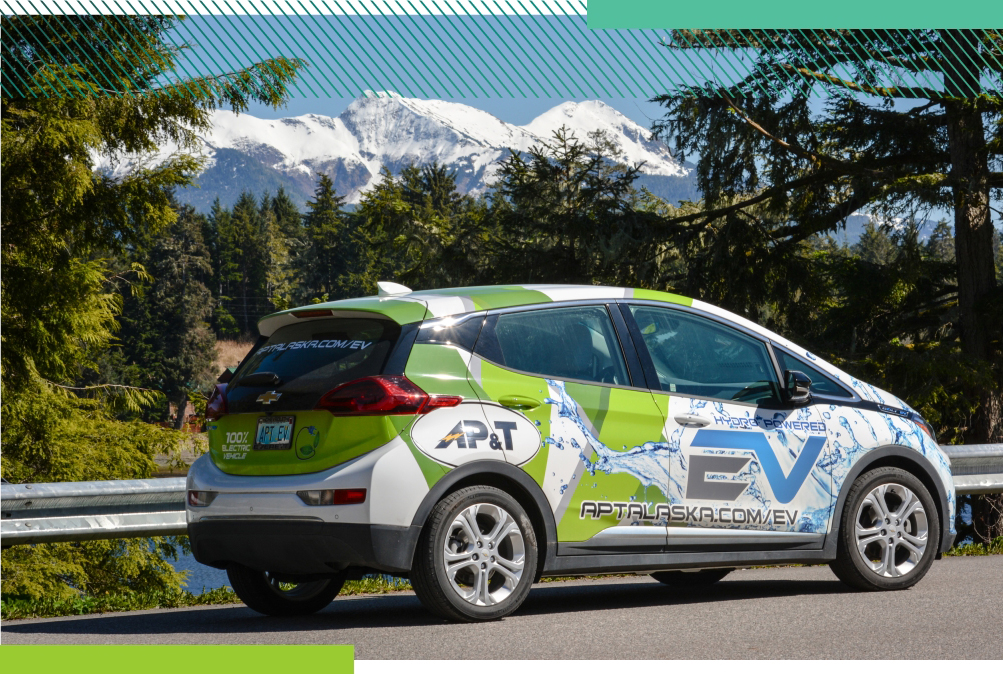 Requirements
> Must be 100% EV. Does not apply to PHEVs or EREVs.
> Minimum battery size of 14 kWh.
> AP&T must receive documentation the vehicle is titled to one of its electrical customers.
> The incentive is paid to the person on the title.
> AP&T must verify the physical presence of the vehicle in its service area.
> Customers must bring the vehicle to an AP&T service center for in-person verification.
> Can apply to used vehicles.
> Only one incentive per VIN number.
> Recipients of incentives will be responsible for reporting and paying any income or other taxes which may be due.
> Incentive is paid based on the date the vehicle was registered to the owner.
> Does not apply retroactively to vehicles owned by AP&T customers prior to the beginning of the program. Only applies to purchases made during the effective dates of the program.
Growing AP&T's EV Fleet
In parallel with the incentive program, Alaska Power & Telephone Company will also be increasing its fleet to include additional electric vehicles in its southeast Alaska service areas. This will allow our company to "shop local" by acquiring "clean fuel" from local renewable energy sources, while also reducing our carbon footprint. Additionally, our employees will gain increased familiarity with EVs, and will be able to serve as ambassadors for EV technology, answering questions and demonstrating vehicle performance to our customers.
AP&T looks forward to partnering together to support increased utilization of electric vehicle technology in rural Alaska!