Enhance Your Wireless Experience
AP&T is partnered with Plume to deliver fast, reliable WiFi throughout your entire home or business.
WiFi that can cover the areas you need.
The wireless strength of a single router is not typically sufficient to cover all areas of a home or business.
Plume is capable of adding multiple access points and uses mesh WiFi technology to replace the wireless on your router and help you stream, learn, work, and play.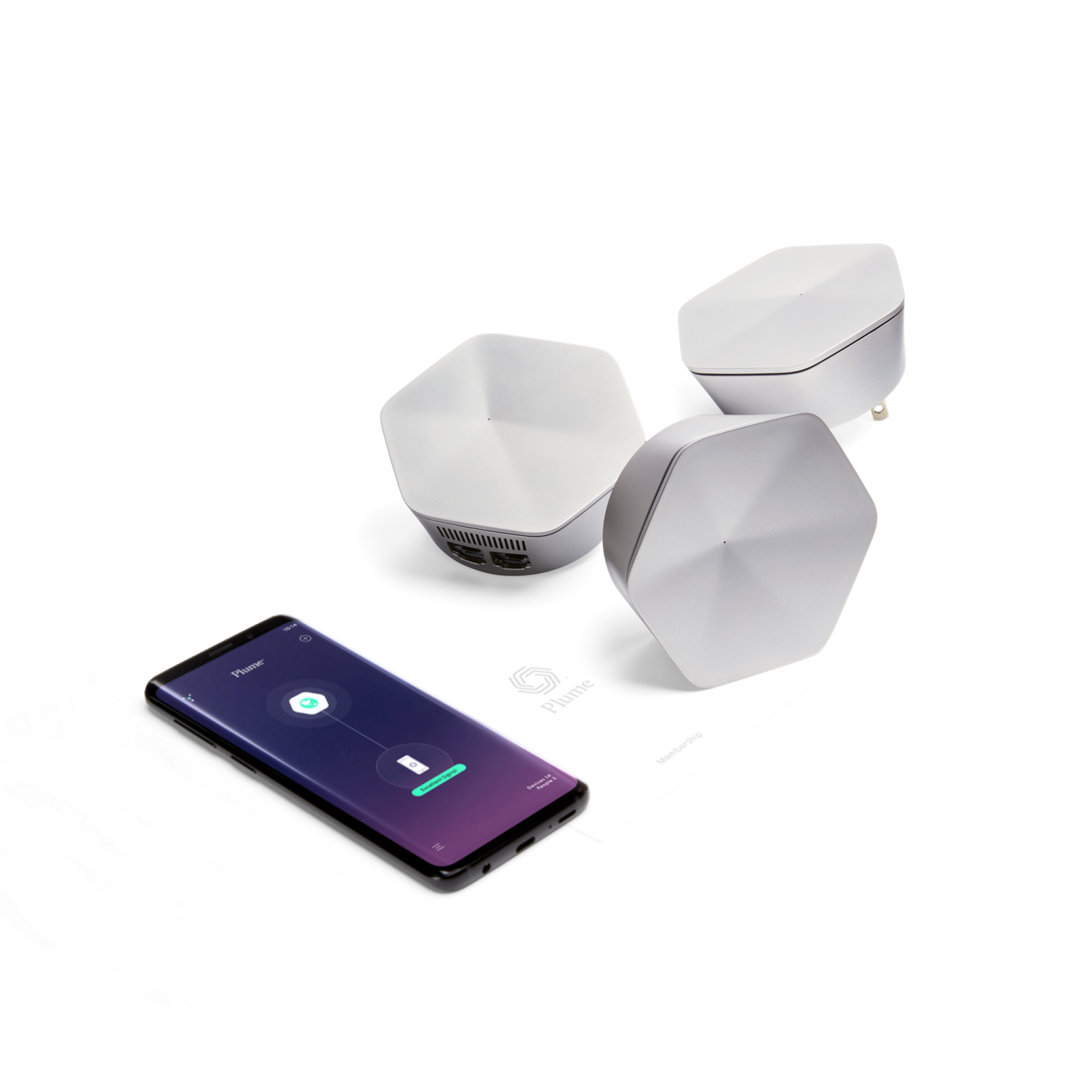 Custom coverage: add Plume SuperPods to cover an area of any size or shape.
Is Plume the same as HomePass?
Essentially the product is "Powered by Plume" with HomePass being the app.
The Plume team is constantly creating new features to keep up with the fluid demands of internet subscribers. HomePass offers more digital well-being and screen time management tools to freeze WiFi device connectivity and enhance parental controls. All HomePass devices automatically receive cloud updates with new features as they're released.
Convenient Management
The HomePass app gives you control over your wireless network, right in the palm of your hand.  Check your internet speeds and connected devices, and monitor their data usage in real-time.  Set schedules, create profiles for devices and users, and pause access with the tap of a button.  Grant access to friends and family, or share your network with guests.  Get system updates, security patches, and more automatically.
Guard Your Wireless Network
HomePass safeguards your wireless network with real-time threat protection against crypto-mining, ransomware, malware, and more. Guard your connected devices against hackers and cybercriminals with Advanced IoT Protection, including anomaly detection and device quarantine in case of a breach. Enjoy a better online experience by blocking ads. Set parental controls with age-appropriate content filters and website blocks.
A wireless network that just works.
AP&T's mesh WiFi works no matter the layout of your home or business.  Simply add Plume SuperPods throughout your home or business to always stay connected.
How much does AP&T mesh WiFi cost?
AP&T charges an initial non-recurring membership fee of $24.95 and each Plume SuperPod is $7.95 a month.
All of the HomePass management and protection features are included in the initial membership fee and the monthly rate for each SuperPod.  Setup support is provided over the phone at no additional cost.
What is mesh WiFi?
Mesh WiFi consists of a primary router that connects directly to your modem and a series of satellite routers, placed around your home or business as needed for complete WiFi coverage. The mesh devices are all part of a single wireless network and share the same SSID and password. The number of mesh units needed will vary depending on your home or business's size and the desired coverage area. Unlike traditional WiFi routers with extenders, mesh devices operate both independently and in unison with each other, providing a much more intelligent expansion of your home WiFi network with better range, speed, and stability.
How does mesh WiFi work?
A mesh WiFi network has a greater range and is much faster and stronger than your normal WiFi network. Your mesh network range can be extended simply by adding (in our case) Plume SuperPods. Each SuperPod is a mesh network device that not only sends and receives data but determines the best path by which to send it. The SuperPods in a mesh network can automatically reconfigure themselves, using multiple routes to find the most optimal path to the Internet. Shutting down one of the SuperPods in a mesh network won't necessarily shut down the entire network, which means the mesh network is much stronger than the centralized architecture of the WiFi in your home today.
What is the difference between a mesh WiFi network and a WiFi extender?
Routers have limited wireless coverage. Extenders can often improve wireless coverage, but they degrade the internet speed.
Mesh WiFi systems provide relatively higher coverage along without degrading speed.
Plume is a unique mesh WiFi system that uses AI to optimize your WiFi based on your usage to deliver the best speed and coverage.
Every home is different. Plume monitors your home environment, device types, and data requirements to provide each device the right speed and coverage. Plume utilizes multiple wireless channels and pods to do this. Plume's intelligent optimization would allow you to use more devices efficiently simultaneously.
Additionally, your Plume WiFi system comes with a membership that will let you upgrade hardware firmware and use all the new features launched in the future.
How many SuperPods will I need?
We can make a recommendation based upon the size of a home.  Additional factors like distance, walls, the building materials used in the home, and the home's layout can impact the total number of SuperPods needed for complete coverage.
1 SuperPod is recommended for a small (1-2 BR) home.
2 SuperPods are recommended for a medium (3-4 BR) home.
3 SuperPods are recommended for a large (5-6 BR) home.
How do I set up AP&T mesh WiFi devices?
To create a Plume account and set up your SuperPod:
Download the Plume app from either the Apple Store or Google Play. Next, launch the Plume app.
Choose "Set up Plume" then enter your name and email to create your Plume account.
Passwords must be at least eight characters.
Check your email and verify the email account that will be associated with your new Plume account.
Next, there are a few steps to set up your SuperPod. There is an option for Advanced setup if needed.
Enter your Wi-Fi name and password. There will be a series of helpful on-screen tips for additional SuperPod placement.
If you have more than one pod, plug it in and add it to your network now.
Be sure to enable notifications. This will help you be aware of your home network activity.
The Plume app will prompt you to join the new Wi-Fi network.
Finally, after you've allowed Plume to join your network, you'll be taken to the home screen.
Over the next 24 hours, your new Plume WiFi network will optimize to create the best performance for your connected devices.
TURN OFF YOUR OLD WIRELESS > If you are using an AP&T Managed Modem/Router, the onboard wireless will automatically be disabled to allow the Plume SuperPod(s) complete control of your WiFi network.  Customers using their own router should disable the wireless to ensure the best performance and that all devices are utilizing AP&T Mesh WiFi through the Plume SuperPod(s).
Get an order started for AP&T Mesh WiFi today.